Trax Tiles
TRAX can be played anywhere that you have a flat surface.
Nothing beats the tactile feel of real tiles, and the game itself when played over the table.
TRAX is available internationally (enquire for details).
TRAX is a game that is limited only by the player's abilities, experienced players and tournament players may wish to consider getting more than one set.
TRAX makes a great gift idea!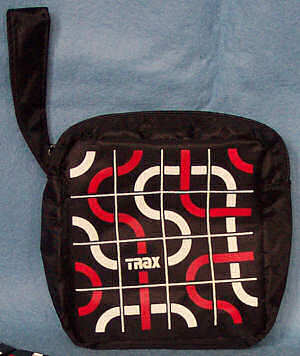 New Black Tiles
The 64 tiles come packaged in a sleek nylon travel bag.
Each bag contains a booklet with rules and strategy hints.
Each tile has hand painted indented red and white straights and curves. Each tile has straights on one side and curves on the other.
To obtain a set: