The New Zealand Trax Association Newsletter. Issue: 8
Trax Around the World
I left New Zealand in June 1996 for six months sabbatical leave which I spent in the Computer Science Department at the University of Wales, in Cardiff. While travelling, I did many of the normal work related things like attend conferences, visit colleagues, and so on. However, I also decided that it would be an excellent opportunity to meet some of the many Trax friends I had made over the internet. The deal in many places was that my wife and I would experience their hospitality in exchange for a lesson or tutorial on Trax. Through the process, I was able to put faces to names, and build on our friendship.
The first Trax stop (the first real stop was Disneyland!) on our way to Cardiff was with Mel and Adriana Nicholson in the San Francisco bay area. It was an interesting feeling driving up outside their house not even knowing what they looked like. It was a relief when they came out and introduced themselves as we got out of the car.
Mel was one of the first contacts through the rec.games.abstract newsgroup. Not long afterwards, he set up a Trax server, the precursor to Richard's PBeM Server, and ran the first internet tournament.
Mel and Adriana showed us around their old haunts at Berkeley, and took us on a tour of the highlights of San Francisco. One evening was a Bay Area Trax Club get together, and I got to meet a few of the other gamers there.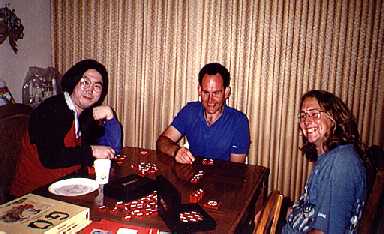 A week later saw us landing at Washington airport to be met by Richard Rognlie. Again we had no idea what he looked like, but he had no trouble recognising me from the photograph on the back of Trax Strategy for Beginners. We spent a week with Richard and his family as he was hosting the 1996 World Trax Championship in his basement (it was the coolest and most comfortable place in his house!). Dan Pless was on the other side of the table as we battled it out for the title. After the games were over, we had some interesting discussions on Trax strategy. After the tournament was completed, Richard took us into Washington for a tour of the city, and a few of the Smithsonian museums.
Shortly after arriving in Cardiff, we were invited by Martin Pedersen to his wedding in Denmark in mid-September. This was an occasion not to be missed, although it was a mammoth effort to get there, squeezed as it was between two work conferences. We are pleased we made the effort - it was a very special. There was also the unusual experience of turning up at Martin's parent's place on the night before the wedding to be introduced both to Martin and his bride-to-be Kristine. Although we did not speak any Danish or Latvian, enough people spoke sufficient English to explain what was happening where the traditions differed from our own. We thoroughly appreciated the hospitality of Martin's parents, and feel very honoured that Martin and Kristine invited us to share in that special occasion with them.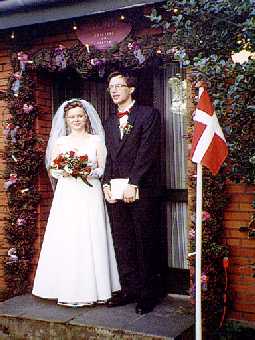 Unfortunately, because of work commitments, we had to leave the day after the wedding, although we did get back to Århus for a few days later in October. Robyn (my wife) twisted her ankle, so had to rest up for a day. That was an ideal excuse for Martin and I to spend a day playing Trax! One evening, Martin took me to meet Søren Pingel, and I proceeded to lose the only game we played together across the table.
While visiting Europe, we used a rail pass to travel around. One of our stops was in Grenoble, where we met up with Thierry Grellier. Thierry was another of the early contacts made through the rec.games.abstract newsgroup. He, and his sister, showed us around the old part of Grenoble, and on one evening we went along with him to a games club.
Two separate weekend visits took us from Cardiff into London. The first time saw us staying with Nick Waterman. I spent the evening playing Trax with Nick and during the day Robyn and I caught the train into the centre of London for sightseeing. On our second visit to London, we stayed with Hamish MacKenzie. Hamish used to be a member of the Manawatu Trax Club, so it was good catching up with him again.
After a day spent driving around the Brecon Beacons in South Wales, we headed north a little to Presteigne where Dave Lunn and his family live in a farm cottage on the outskirts of town. We played quite a few games of Trax both before and after a hearty dinner. Dave's son Sam showed the potential and enthusiasm for being a good Trax player in the not too distant future!
Not long after that, Dave had a UK Trax Association stand at the Midcon games convention in Birmingham. I spent the weekend there while my wife went touring, researching some of her family history. I played quite a bit of Trax, although mostly against Dave and Steve Tavener, and was introduced to several other games.
One weekend saw us travelling to Cambridge where we were the guests of David Tan. David is a friend from student days who introduced me to Trax by taking me along to a Canterbury Trax Club meeting. While David hasn't played Trax for quite a while, he was still interested in what was happening with the game. Highlights of our visit to Cambridge were a high table dinner at David's college, and a tour around all of the old buildings and colleges.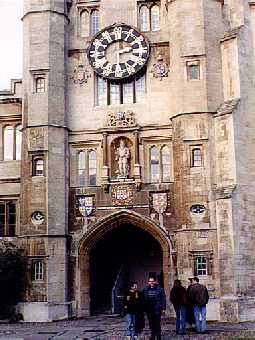 One of the last visits we made while in the UK was to the home of Chris Lusby-Taylor in Newbury. This was in the middle of our last tour before the winter snows set in. We had an excellent meal, and played a few games of Trax in the evening. On the following day we attended church with them before continuing on our tour.
On way home to New Zealand, stopped over in Brisbane where we stayed with Michael Sargent. It was a bit of a shock arriving in the heat of summer after leaving a cold northern hemisphere winter. On our first day there, all we could do was sleep. We decided that an air-conditioned bus tour was the best way of spending the next day. We played a few games of Trax, and went to Sarge's farewell dinner - the day after we left he moved to Indonesia.
We finally arrived back home February 1997.